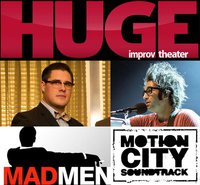 The 2nd Annual HUGE Improv Theater Fundraiser is this Saturday, and it is going to be a heck of a show. Rich Sommer, of Mad Men and The Office, and Justin Pierre, of Motion City Soundtrack, will be there along with one of the two Mustache Rangers.
But beyond that, there will be a silent auction to raise money for HUGE. And the Mustache Rangers have donated their time to the auction in the form of An Awkward Dinner with the Mustache Rangers. The winners of this auction will get to spend an awkward night at the Shout House piano bar with the Mustache Rangers. What sort of stilted and hilarious conversation will occur? You'll have to bid, and win, to find out!
Details on the entire evening are below. Please come, enjoy, and support HUGE Improv Theater and the improv community in Minneapolis!
What: HUGE Theater's 2nd Annual Fundraiser, a night to support improvisation in the Twin Cities

Where: HUGE Theater
3037 Lyndale Ave South, Minneapolis

When: Saturday, March 5
Doors: 7pm, Show at 8pm

Who: The cast of HUGE Theater plus special guests Justin Pierre (Motion City Soundtrack) and Rich Sommer (Mad Men, The Office)

How: RSVP to reservations@hugetheater.com

How Much: $20

Details:
It's been just one year since the folks behind HUGE Improv Theater had their first fundraiser to give scenic improvisation a home in the Twin Cities.

Thanks to people like you, HUGE exists! The theater hosts six nights of shows a week and hundreds of improv fans have come through the doors.

But your support is as crucial as ever. You can help ensure improvisation has a dedicated space in the Twin Cities for years to come.

We hope you'll join us for our second annual fundraiser Saturday March 5th, a night to support HUGE Theater and Twin Cities improv.

You'll be treated to an all-star show from the best improvisers in the state. Plus Justin Pierre of Motion City Soundtrack and Rich Sommer of Mad Men will join us as part of Matt Donnelly's Celebrity Tarot Lounge.

Don't miss what promises to be an amazing evening.