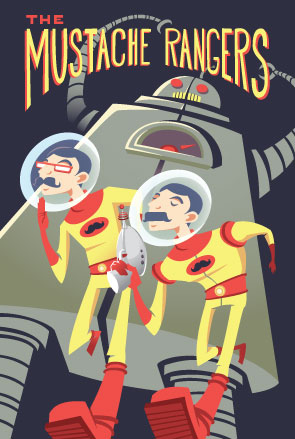 The Mustache Rangers are a podcast and improv comedy team from Minneapolis, Minnesota. Their performances and podcasts are best described as a cross between Buck Rogers, Curb Your Enthusiasm, and Samuel Beckett.
Corey Anderson, who plays Commander Major Alastair Q. Bastidious, and Aric McKeown, who plays First Lieutenant Rutuger G. Phooneybaum, have been performing as the Mustache Rangers since 2005. The Mustache Rangers have performed at the Twin Cities Improv Festival, at the Chicago Improv Festival, on Drinking With Ian, and at the CONvergence Science Fiction and Fantasy convention along with many other venues in the Twin Cities and Chicago.
The Mustache Rangers podcast has been updating weekly since January of 2007. The podcast has been featured on Yahoo! Picks, MaximumFun.org, Edgy Podcast Reviews, and was named Mpls St. Paul Magazine's Best Podcast of 2011. Currently, the Mustache Rangers have over 145 podcasts recorded and available for free online. In addition to their podcast, the Mustache Rangers are currently working to expand into video. Look for that in the near future.
Why not check out a few of our favorite podcast episodes where the Mustache Rangers:
If you like what you hear, why not subscribe on iTunes and tell all your friends about it? Why not?
And, if you're looking to start from the VERY beginning, you should explore Mustache Rangers Classic over at NoisePicnic. There you will find cleaned and remastered versions of the earlier Mustache Rangers episodes.