Podcast: Play in new window | Download (Duration: 9:53 — 3.4MB)
Subscribe: Apple Podcasts | Android | Google Podcasts | Stitcher | Spotify | RSS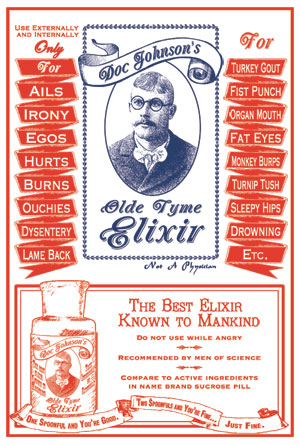 Desperate times call for not so desperate measures. Today's hilarious interpod netcast is trying to part you with your hard earned monies. But the benefits are great.
The specific benefits are a discounted price on a Doc Johnson's Olde Tyme Elixir t-shirt. These t-shirts are available for PRE-ORDER for this special price. But once the shirts go to print, these fantastic savings will disappear like the dolphostich.
The online internet order form for these chest warming cloth shirts can be found RIGHT HERE.
Who needs electronics when you can purchase t-shirts? The t-shirts were probably made with electronics. That you don't need to buy.
Are you still reading this? You should be listening! Or ordering. You could probably do both at the same time. You're that talented.