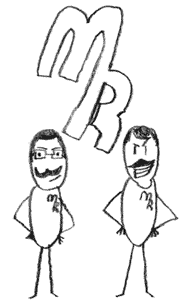 Citizen, and relative unknown, John Wallace has taken time out of designing magazine ads for ladies undergarment undergarments ("Two layers, because one is breachable!") to favor us with his rendition of the Mustache Rangers.
What Citizen Wallace has done here is really quite brilliant. As you can plainly see, Commander Major and First Lieutenant are represented by eggs. Not literal eggs, of course. The drawing seems to be done by simple graphite rubbings, not smeared ovum and membranes. But the Mustache Rangers seem to be represented in egg form, with oval bodies and heads.
Jallace (J minus Ohn plus Wallace minus W) is giving us art and also instructions on creating delicious hors d'Å"uvres. All you need is eggs, toothpicks, and dried parsley. Lots and lots of dried parsley! Your guests (if you have no friends) will be delighted with your creative and tasty treats! And you, in turn, can thank Jallace.
Thank you, Citizen Jallace, for your support.
Fan art will be accepted from all in the mustacherangers@gmail.com electric message depository.