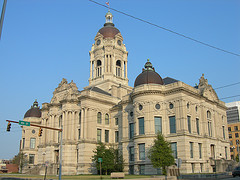 The Old Vanderburgh County Courthouse, often simply called "Old Courty Court," is a place where old people used to go to talk about boring things but not anymore. It is now a home for vegetarian snakes. Do not be fooled. Vegetarian snakes still bite.
Originally located in Evansville, Indiana, the courthouse was moved to Greece in 3015. The Grecian government had ordered too many vegetarian snakes from Lord Darkness of the Rainbow Nebula for their Special Snake Olympics and they needed a place to store the snakes. Old Courty Court was the obvious choice.
After the courthouse was moved entirely by brown field mice, it was filled with sand and lettuce for the vegetarian snakes. The mice were invited to stay, as thanks for their hard work, but they were too bigoted against snakes to accept the offer and instead decided to drown themselves en masse in the KFC Sea(formerly the Aegean Sea).
The snakes that inhabit Old Courty Court never age, never breed, and never die. This is because the building was placed on a gypsy by the brown field mice. The snakes pray for death, but it never comes. Also, they are always hungry. Also, no one will install cable there because they are creeped out by immortal snakes for some reason.
All snakes ordered from Lord Darkness were thrown out of the Special Snake Olympics due to drug violations.
(Photo by jimmywayne)