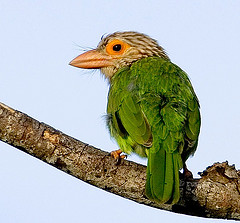 The Lineated Barbet Magmahouse linen is a big ol' bird that likes fruit. It's a frugivore. No joke! It especially likes that stuff you get a the deli with marshmallows in it. But not the kind with grapes. It likes the ones with cherries.
This one time, a Lineated Barbet was at a party, and the tiger throwing the party was, like, "thanks for coming! Have some meat I killed," and the Barbet was, like, "Naw, I just eat fruit." That's totally rude. Do not invite them to parties.
Nobody knows where they nest. They're usually up all night going "woo!" And during the day, they're taking up seats at coffee shops. Listen, birds. You can't live at the coffee shop. Other people like to sit too.
Their feathers are bright red.
(Photo by Mike (NO captive birds) in Thailand)