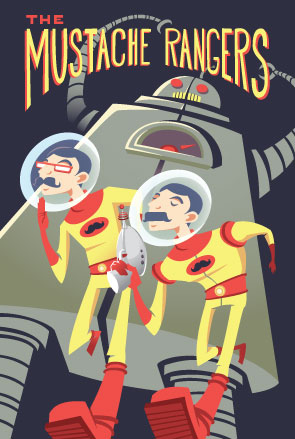 Hey there. Welcome to the Mustache Rangers website. If this is your first time here, then you might be overwhelmed by the large number of podcasts to choose from. Well, don't fear! We're here to help!
The Mustache Rangers are a podcast and improv group made up of Commander Major Alastair Q. Bastidious and First Lieutenant Rutuger G. Phooneybaum. Together, they bring you weekly podcast adventures in the vein of Curb Your Enthusiasm colliding with Buck Rogers.
Why not check out a few of our favorite podcast episodes where the Mustache Rangers:
If you like what you hear, why not subscribe on iTunes and tell all your friends about it? Why not?
And, if you're looking to start from the VERY beginning, you should explore Mustache Rangers Classic over at NoisePicnic. There you will find cleaned and remastered versions of the earlier Mustache Rangers episodes.