Podcast: Play in new window | Download (0.0KB)
Subscribe: Apple Podcasts | Android | Google Podcasts | Stitcher | Spotify | RSS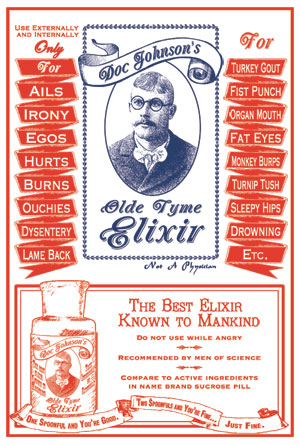 While not necessarily inevitable, the Doc Johnson's Olde Tyme Elixir t-shirt is as much a reality as diapers that can be pulled upwards are.
Doc Johnson was feeling generous, for once, and is allowing his t-shirt to be PRE-ORDERED at a discount. Be aware that the t-shirt has unsubstantiated healing abilities, just like Doc Johnson's famous elixir. If it's unsubstantiated, you know that it's good.
The online internet order form for chest warming cloth shirts can be found RIGHT HERE.
You seem to be on the fence about this fantastic Mustache Rangers approved product. What would you say if I told you that fence you were sitting on is Mustache Rangers approved. Has your world been turned on its end?
Along with a celebration of t-shirts, the Mustache Rangers have recorded a special public service announcement about social security. If you were worried about social security before, you were not worried nearly enough. Enjoy!